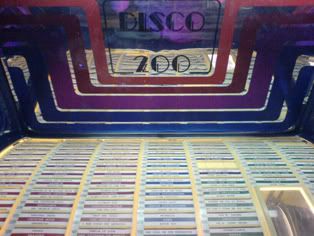 It was great to get the chance to hear
Ebb
perform this weekend in Stockholm for the first time this year.  He's been in his studio for the past few months working on his new album - which was marred by a bit of a setback last autumn when the side project he was working on was abandoned due to "creative differences" with another musician (and former Gaymonkey ...).
Pleased to say the new material is stunning - trademark Ebb beats and emotional hooks, but packaged this time into more traditional song structures.  We were treated to 4 new tracks - all of which will develop into strong contenders for new found favourites.
Sugar Bar provided an odd backdrop to the event - however, they do have the most fantastic jukebox ...